Scrivo is a highly configurable reporting suite, ready for integration into your software products and applications. Scrivo's component-based 'plug-in' architecture enables a high degree of extensibility, allowing you to adapt the suite to work with your bespoke data sources, and to report your data in the way you prefer.
Generating reports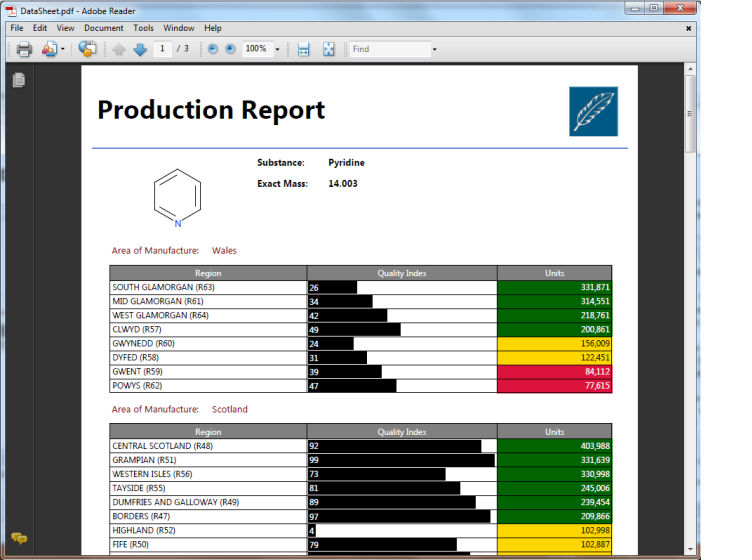 Scrivo combines data with report 'templates' to produce high quality reports in a variety of formats, including PDF, Word and Powerpoint. Specialised data types such as chemical structures, interactive drawings or documents can be incorporated as embedded objects wherever appropriate. Scrivo can also export data without formatting, to produce Excel workbooks, or simple delimited or comma-separated datafiles.
Designing report templates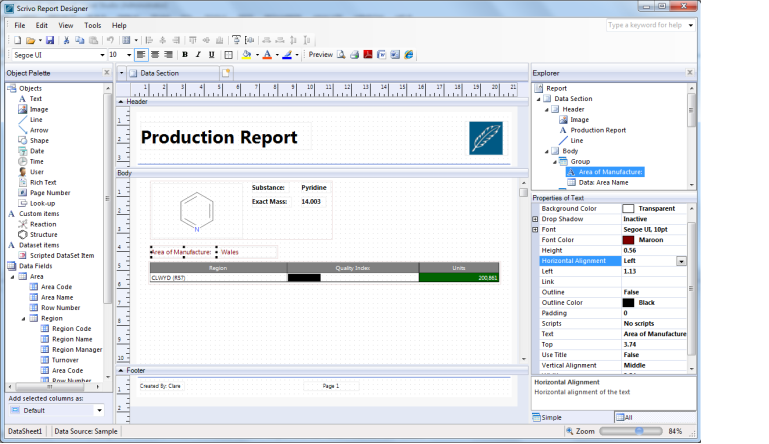 The visual Report Designer helps you to design your report templates, with drag-and-drop selection and grouping of the data. Choose fonts, colours and text-alignments with ease. Fine control over the presentation of each data item allows you to set up a report template to produce reports in exactly the format you need. Add text and data items, tables, images, dictionary (look-up) items and many others to your report template.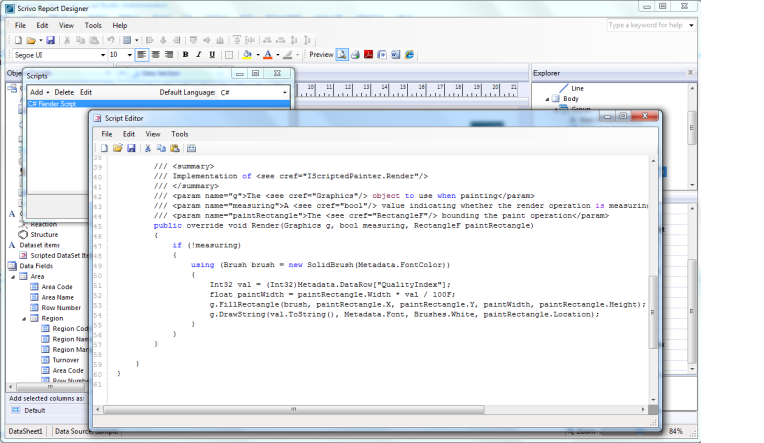 Advanced users of the Report Designer can add script in C#, Visual Basic or IronPython, with full access to all data, to perform complex bespoke calculations or a specialised rendering of an unusual data type.
Learn more about the features of the report template designer.
Integrating Scrivo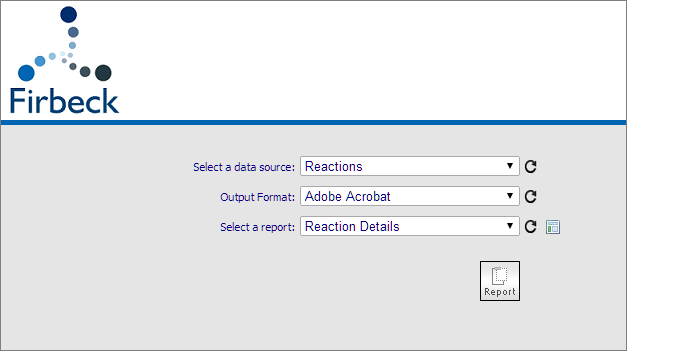 The Scrivo API enables full programmatic control of report generation, listing of available report templates and stored generated reports. You can use the .Net assemblies directly in your Windows client application, or call the Scrivo RESTful web service from any suitable client application running on a PC, tablet or smartphone.
Customisation
Scrivo's plug-in architecture enables you to add support for your own bespoke data types, and to add specialised rendering capabilities. Firbeck can undertake this customisation for you if you prefer, via our Professional Services team

Learn more more about bespoke rendering and custom data types.
System Requirements
| Operating System | 32-bit client | 64-bit client | 32-bit server | 64-bit server |
| --- | --- | --- | --- | --- |
| Microsoft Windows Vista, Business and Enterprise Editions, SP2 | ✓ | ✓ | | |
| Microsoft Windows 7, Professional and Enterprise Editions, SP1 | ✓ | ✓ | | |
| Microsoft Windows 8, Professional and Enterprise Editions | ✓ | ✓ | | |
| Microsoft Windows 8.1, Professional and Enterprise Editions | ✓ | ✓ | | |
| Microsoft Windows Server 2008 SP2 | | | ✓ | ✓ |
| Microsoft Windows Server 2008 R2 SP1 | | | | ✓ |
| Microsoft Windows Server 2012 | | | | ✓ |